The 7th International Xu Beihong Art Competition for Children and Young Adults(overseas contest applications)
The 7th International Xu Beihong Art Competition for Children and Young Adults(overseas contest applications)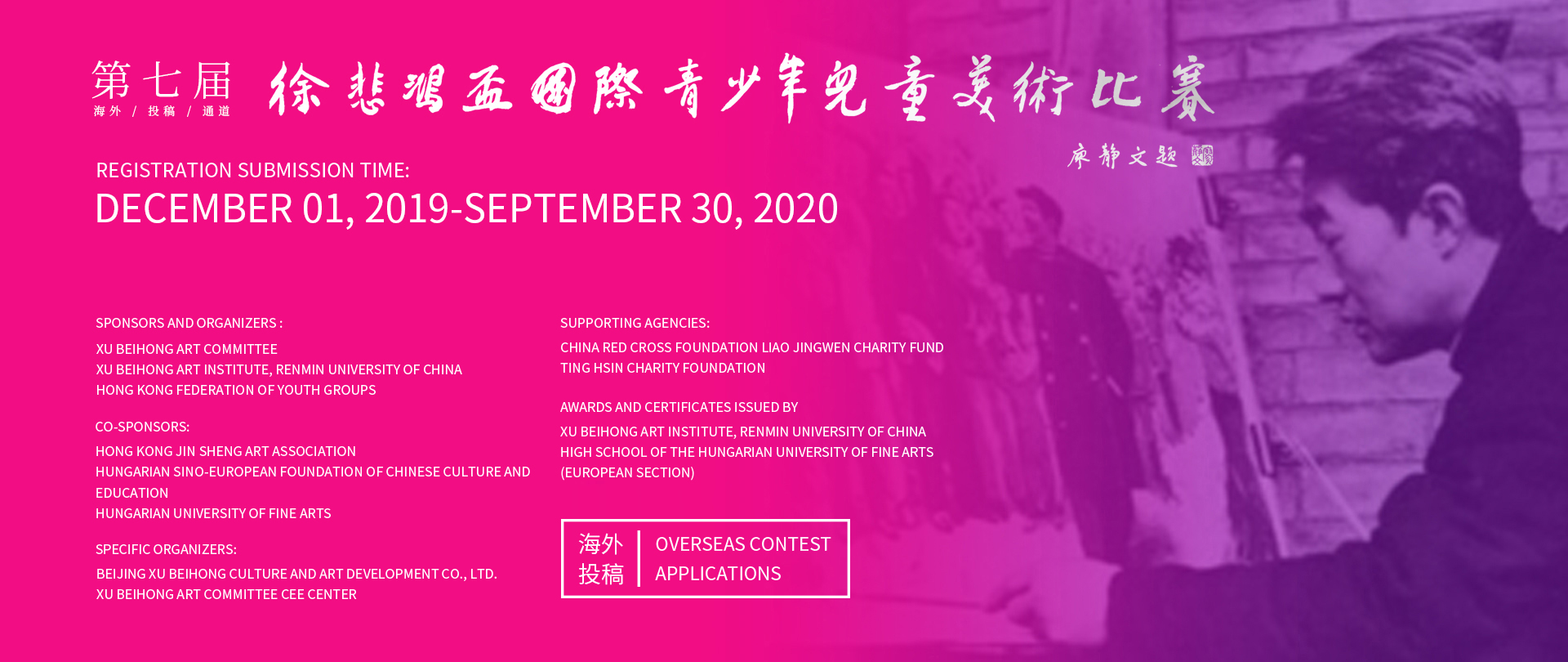 This contest is totally free of charge for application and/or admission.
---
Xu Beihong (1895—1953, alias Ju Péon,) , a household name in China, was one of the pioneers of modern Chinese painting, who championed the need for artistic expressions that reflected a modern China at the beginning of the 20th century. Apart from his highly acclaimed traditional Chinese ink paintings of horses, lions, birds, eagles, pine trees, bamboos, etc., Xu Beihong was also known as one of the first to create monumental oil paintings with epic Chinese themes--- a demonstration of his admirable proficiency in combining both Chinese and Western art techniques. Starting in 1919, Xu studied in Paris at the École Nationale Supérieure des Beaux-Arts, where he learned oil painting and drawing. During 1933-34, Xu traveled widely and held art exhibitions around Western Europe, including the former Soviet Union, and won warm responses both at home and abroad. As the founder of the prestigious Central Academy of Fine Arts (CAFA) in China, Xu trained in his lifetime generations of young Chinese artists, the influence of which is still being strongly felt today throughout China and beyond.
The 7th International Xu Beihong Art Competition for Children and Young Adults(overseas contest applications)
Guidelines for contest registration :
I: The International Xu Beihong Art Competition for Children and Young Adults (hereafter The Competition) was the brainchild of Madam Liao Jingwen, Xu Beihong's widow, who donated to the state all the major works by Xu Beihong after his death in 1953, together with his large collection of valuable Chinese and Western paintings , to build and set up the first public art museum in China----the Xu Beihong Memorial Museum in Beijing. Additionally, in order to commemorate and spread Xu Beihong's spirit and conviction of "All for Chinese Art Education " Madam Liao Jingwen endeavored to have founded Xu Beihong Art Institute of Renmin University of China . This Competition was jointly sponsored by the Institute, Xu Beihong Art Committee, Hong Kong Youth Association and other institutions. Since its establishment in 2004, the Competition has successfully held six contests , the seventh will be held in 2019. All previous contests have been received warmly and have attracted numerous children and youth from the United States, Canada, the United Kingdom, Hungary, Croatia, Australia and other countries as well as Hong Kong, Macao and Taiwan regions. The total number of participants has reached hundreds of thousands of people. The Competition aims to discover outstanding young children with artistic talents, and to inspire and cultivate young children's interest in painting. Over the years, we have been adhering to the tenet of "Wisdom, Love, Music, Beauty" and have always benefited many youth and children through this meaningful charity event .
This contest is totally free of charge for application and/or admission.
II Contest details
Name: The Seventh International Xu Beihong Art Competition for Children and Young Adults
Theme: "Love and Beauty" (describe the most beautiful and touching things in your heart, subject matter and expressions are not limited)
Sponsors and organizers :
Xu Beihong Art Committee
Xu Beihong Art Institute, Renmin University of China
Hong Kong Federation of Youth Groups
Co-sponsors:
Hong Kong Jin Sheng Art Association
Hungarian Sino-European foundation of Chinese Culture and education
Hungarian University of Fine Arts
Specific organizers:
Beijing Xu Beihong Culture and Art Development Co., Ltd.
Xu Beihong Art Committee CEE Center
Supporting agencies:
China Red Cross Foundation Liao Jingwen Charity Fund
Ting Hsin Charity Foundation
Awards and certificates issued by
Xu Beihong Art Institute, Renmin University of China
High School of the Hungarian University of Fine Arts (European Section)
Timetable for the event
Registration submission time:
December 01, 2019-September 31, 2020
Selection time:
Beginning in July 2020
For information on the list of awards, the award time and the exhibition location, please visit www.xbh.art Xu Beihong's official website, or follow the "Xu Beihong Education" WeChat account
Entries:
Young kids (3-5 years)
Junior group (6-8 years old)
High Group (9-12 years)
Junior high school group (13-15 years old)
High School Group (16-20 years)
Each category has its first, second, and third places, first prize, second prize, and excellence prize, and the children's group has a manual prize.
In addition, there are excellent collective awards and outstanding teacher awards for collective registration institutions.
III. Restrictive requirements
The submitted work was created by the contributor himself based on the theme of this competition, and the copyright and disposal rights belong to his original work.
Each contestant submits a work, and the uploaded file is an electronic photo of the contestant. The file format supports jpg, jpeg, bmp, png, tif, and gif, and the file size is not larger than 10M.
The submission and selection of works are electronic, and no paper works need to be mailed. After the competition, the organizing committee will select outstanding works and organize exhibitions. If the original works need to be mailed, they will be notified separately.
Ink paintings, calligraphy and other works are recommended in size: 33 X 44cm or 44 X 60 cm.
Recommended specifications for drawings, oil paintings, prints, cartoons, etc .: 29 X 38cm or 38 X 58cm.
The size of the handmade art works of the young kids group is not limited.
All entries must ensure that no intellectual property rights are violated. If the entry is found to be non-original, the organizer reserves the right to cancel its entry and award qualification. Participants are liable for any violation of copyright regulations.
The organizer and Xu Beihong Art Committee reserve the right to use the entries.
The organizer reserves the right to explain and modify the rules of the competition, and has the final decision on the results of the competition. Others must not object.
The Organizing Committee of the 7th International Xu Beihong Art Competition for Children and Young Adults
2019.12.1